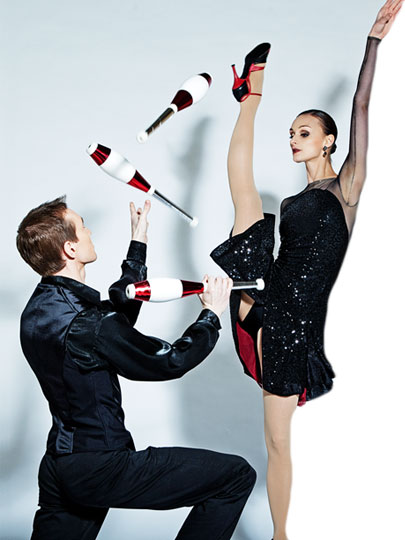 Juggling Tango by Emily and Menno van Dyke, is an expression of their own extraordinary life story.
The French ballerina and the award winning juggler from Amsterdam met each other between the Eiffel Tower and Champs-Elysées.
A fusion of tango and juggling, presented with breathtaking precision to the music of Astor Piazzolla, is the result of their artistic collaboration. When clubs, balls and legs start swirling through the air, a beautifully choreographed display unfolds. High tempo juggling skills meet with the elegance and passion of the tango.
A truly one of a kind act that has garnered Emily and Menno worldwide acclaim for over 10 years.
Juggling Tango has been featured at some of the finest circuses and variety stages in Europe, Asia and the U.S., and has won numerous awards at international festivals. Including a Silver Elephant in Moscow, Gold Medals in France and the Oscar Carré Trophy. The highest award for the circus arts in the Netherlands.

Juggling Tango also exists as a 15-20 minute performance, suited for both indoor and outdoor occasions.